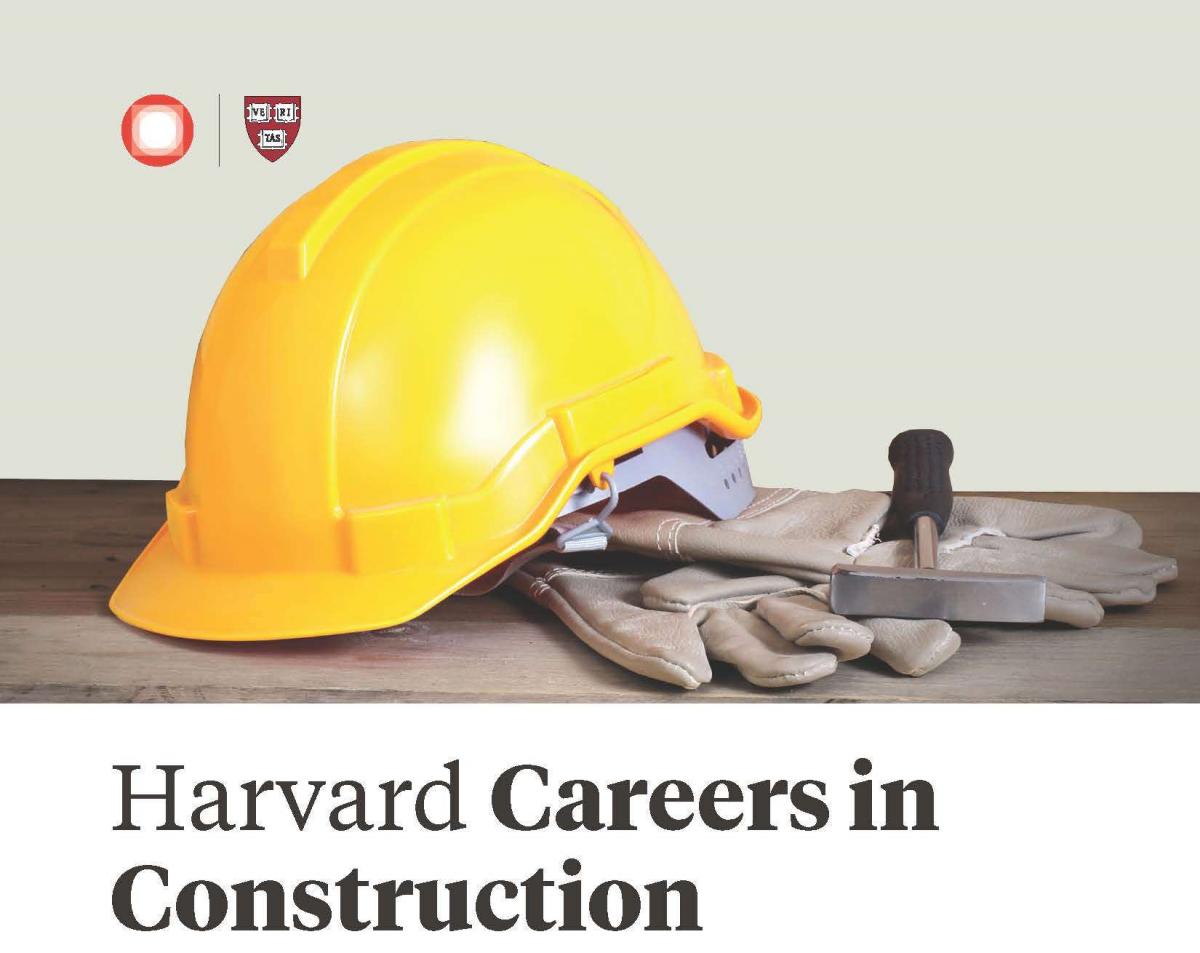 Diversity Development has partnered with Harvard University to establish and implement the Harvard Ed Portal's Careers in Construction Program. HCCP provides Allston-Brighton residents with information, training, resources, job search assistance, mentoring, and work experience in preparation for the Building Pathways Program and Building Trade Apprenticeships with the goal of securing gainful, long-term employment in the construction industry. 
Harvard Careers in Construction | Harvard Ed Portal
The program includes:
An Orientation to the Harvard Careers in Construction Program and an introduction to the construction trades.
Career Development Workshops and Conference including:
Workshops in business etiquette, job search, and budgeting.
Attendance at a construction exposition. 
A panel discussion and construction site visit. 
A workshop for women in the trades.
Individual support in math skills and English as a second language.
A Mentor Program.  Participants will be partnered with construction professionals throughout the program.
Summer Employment.  Opportunities to apply for paid construction employment from June to November.
Building Pathways Program Assistance. 
Attendance at the Building Pathways Information Session.  
Assistance with completing the application and preparing for the entrance interview.
A financial stipend during the 6-week program.
Job Search Assistance. 
Workshops and individual coaching in applying to your chosen Building Trades Apprenticeship and employment.
At the completion of this program the attendee will have:
The information necessary to choose a career path in construction.
A structured career preparatory program 
Guidance and support from an experienced mentor in the construction industry.
Professional credentials, related job experience, professional references, and a means to achieve gainful long-term employment.
Job search skills and tools to increase marketability to employers.
Intermediate paid employment during the program.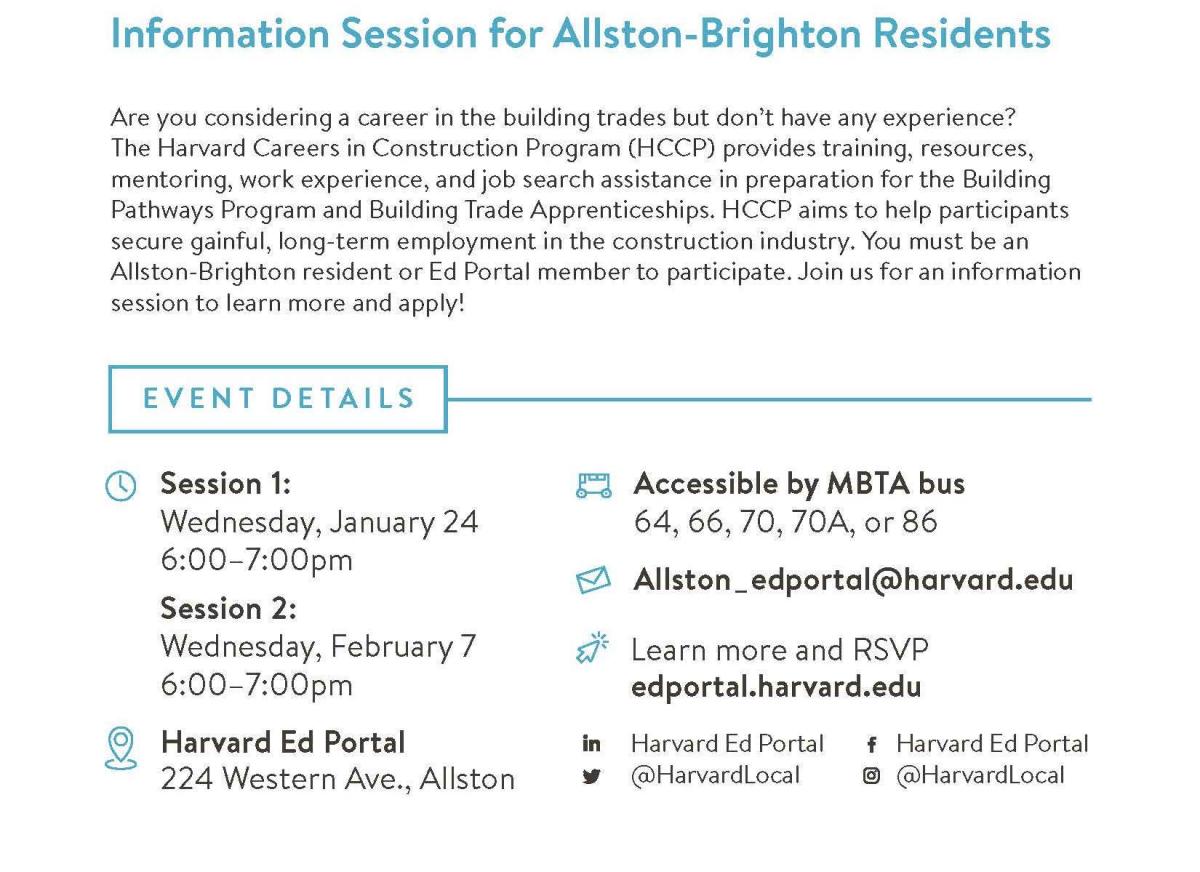 Participation Requirements
Participants in the Harvard Careers in Construction Program can apply for the Building Pathways Program or can directly apply for a Building Trade Apprenticeship.  Minimum requirements to participate are:
A resident of Allston or Brighton.
Authorized to work in the U.S.
18 years of age or older.
A minimum of a High School Degree or GED.
Ability to perform physically challenging work and tolerate weather conditions.
Be drug free and able to pass a drug test by an employer or Building Pathways.
Ability/Transportation to get to HCCP events and internship
Proficient in math and English.
No prior affiliations with a building trades union.
Program Calendar:
 
Event
Date
Location
Harvard Careers In Construction Information Session
May 3, 4:00-5:00
Harvard Ed Portal
Building Pathways Information Session
May date to be determined
Harvard Ed Portal
Summer/Fall Employment
June 1 – October 29
Building Pathways Application Deadline
September 9
Building Pathways Program Start Date
October 30
 
Building Trades Apprentice Applications Deadline
Vary by Trade Union
 
The fastest growing professions in Massachusetts are in construction.  Here's why:
Massachusetts ranks No. 3 in the country in construction jobs added in 2016. Boston Business Journal 4/18/16.
In December 2016 Massachusetts construction gained 3,700 (+2.5%) jobs over the month. Over the year, construction has added 8,800 (+6.1%) jobs. Executive Office of Workforce and Labor Development Press Release 1/19/17.
A competitive wage, a steady paycheck, insurance and retirement benefits.
A diversified career path.
You can use your mind and your hands.
To learn more, schedule an appointment with one of the Program Managers at allston_edportal@harvard.edu or contact Diversity Development.
We hope you will join us!
For more information about the Ed Portal visit https://edportal.harvard.edu/